Come to Baron Day!
Your first event as a Franciscan University Student
Meet your future classmates.
---
- Begin friendships that will last a lifetime.
- Integrate with campus life - Households, Commuter Student Association, Priestly Discernment Program, ROTC, and more!
- Receive your housing assignment!
Experience your beautiful campus.
---
- Learn about our Austria program and how to fit a semester abroad into your college career.
- Join us and your fellow classmates for Mass Friday morning in Christ the King Chapel.
- Three meals are provided: Dinner on Thursday, breakfast on Friday, and lunch on Friday.
Jump-start your college career.
---
- Meet one-on-one with faculty members to adjust your academic schedule.
- Baron Day does not take the place of orientation, but you can complete all necessary documents (financial aid, health forms, housing contracts, student work, etc.).
- Learn about various clubs, organizations and extra-curricular activities.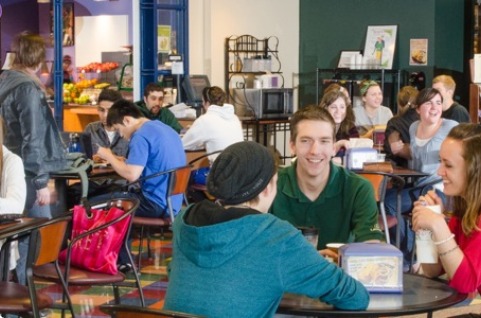 Parents are welcome to attend Baron Day!
Attend any of the Friday sessions with your son or daughter, tour the campus, visit the bookstore, and enjoy meeting other parents at the parent social on Thursday evening.
Stay at The Inn and Suites at Franciscan Square
What to bring to Baron Day
For all students spending Thursday night on campus, they will stay in Sts. Louis and Elizabeth Hall.

Two government-issued IDs
If you are applying for an on-campus job, bring two government-issued IDs, such as a driver's license and a Social Security card.

Medical release form
Download and sign our medical release form here.

Personal Items
If you're staying overnight Thursday in a residence hall, linens, blankets, pillows and towels are provided.
Baron Day Calendar of Events
A more detailed schedule will be distributed upon Baron Day Check-in
Thursday, June 6 or 13
---
3:00 – 5:30 p.m.

Student Check-In
Campus Tours (Optional)
Meet with Financial Aid (Optional)
Bookstore Open

5:15 p.m.
5:30 p.m.

Student social with food and activities
Parent social with food

7:00 p.m.

Austrian Study Abroad Program Presentation

7:45 p.m.
8:30 p.m. – Done
Friday, June 7 or 14
---
8:00 a.m.
8:45  a.m.
9:30 a.m.

Academic and Student Life Talks

10:00 p.m.

Split into Groups for three one-hour sessions on:

Academic Advising
Career Services and Student Success Presentation
Student Services

1:00 p.m.

Lunch and T-Shirts
Group Photo

Done
Pick a day that works for you.
We look forward to seeing you here!
Travel Information
Shuttles will run between Pittsburgh International Airport (PIT) on Thursday and Friday. If you are requesting transportation to and from the airport, please send your flight itinerary to Janet Grimes at [email protected] You will be contacted with the specifics concerning where and when to meet the shuttle. Should your flight information change or should you need to cancel, please contact our office immediately so we can notify our shuttle drivers.
If you are arriving between 7:00 p.m. and 9:00 p.m. on Thursday, please sign in at the student social in the J.C. Williams Center. The latest check in for an overnight stay in the residence halls is 11:00 p.m. If you are arriving between 9:00 p.m. and 11:00 p.m., please check in at the residence hall and obtain your room number and key from the housing host. Folders, schedules and nametags for late arrivals and those unable to attend the Thursday social will be available at a registration table in the back of Christ the King Chapel after the Friday morning Mass.
Should you need to leave Baron Day before 3:00 p.m. on Friday, please indicate this on your registration form. Any missed activities may be completed during New Student Orientation in August.
Please check out of the residence halls by 8:00 a.m. on Friday. No Friday night lodging is available due to our summer conferences. There will be a room in the J.C. Williams Center set aside for luggage storage until 3:00 p.m. on Friday.